PiBond is a leading provider of advanced SOG materials for semiconductor manufacturing. Spin-on-Glass materials are used in the micro-fabrication process to planarize surfaces, enhance adhesion, and provide dielectric insulation.
Share
View full details
Collapsible content
Features

Crack-free planarization of 4:1 (SG 200), 5:1 (SG 300) and 7:1 (SG 400) aspect ratio features
Can be easily double-coated for improved planarization of larger topography
Formulated for pump or pressurized dispense systems
Filtration to 0.04 μm for low particles
Trace metals < 5 ppb per metal
Bottle sizes from 500 ml to 4000 ml
Key Advantages

Designed for easy insertion into Partial Etch Back, Total Etch Back planarization, and passivation processes found in both BEOL and FEOL Applications.
Water-free film after cure. Low organic content to facilitate etch back planarization selectivity to CVD SiO2.
Low COO dielectric for BEOL sub-Al integration at device generations larger than 0.18 μm.
SG series are currently produced in the three sub-series: SG 200, SG 300 and SG 400.
The materials are offered in different formulations (e.g. viscosity and solid content) in order to meet application specific thickness requirements.
PiBond has also developed thick SiO2 replacements and high thermal stability, directly patternable SiO2 dielectrics.
Brochure (PAGE 43)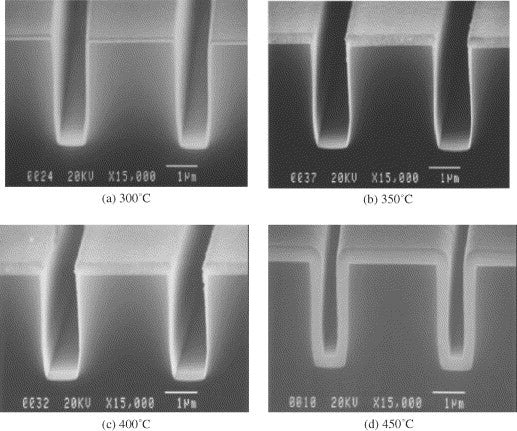 SG series materials are coated using
conventional coater tracks equipped
with spin-on cup and hot plates.
Final cure bake is done at 425 °C in horizontal or vertical furnace under nitrogen atmosphere.
Brochure (PAGE 43)